Things are getting much too serious around these parts so obviously we need to talk about my hair.
A while back, the lovely
Whoorl
featured me on
Hair Thursday
. She came up with two options and asked her readers to vote. Which is great because I am indecisive and clearly have no idea what to do with my hair. The problem? Fifty percent of the people who voted like option #1
... and fifty percent like option #2.
So I'm leaving it up to you. What should I do with my hair? Cut it short or grow it long? This is my hair as of this morning:
A few things to note:
This picture was taken pre-coffee so be gentle.
I have hideous split ends right now because I have refused to have my hair cut since my
$20 monstrosity of a haircut
. Also, since then I have worn my hair in a ponytail pretty much every day because I don't want to deal with it.
I like Patricia Arquette's bangs and am trying to convince myself to go for it. I'm hesitant because I feel like bangs are a lot of work. Thoughts?
I have not had my hair coloured since July 2008 because I was really tired of fighting with my stylist (who I have now broken up with, so it's no longer a problem) about how blonde I should be (his opinion? Blonde! my opinion? not so blonde.) I'm interested in colouring my hair again but am unsure what direction to take. My hair is naturally a light brown/dark blonde so it's very easy to go lighter. But I'm intrigued by the thought of having dark hair. Is dark hair too much for my light complexion?
This is what I usually go for when I colour my hair: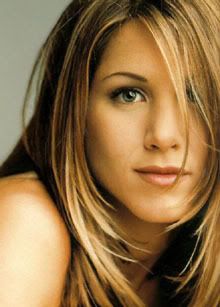 But I was thinking something more along the lines of this:
I'm overwhelmed by the possibilities.